Startech 8-Port PCI Express RS232 Serial Adapter Card -PCIe to Serial DB9 Contro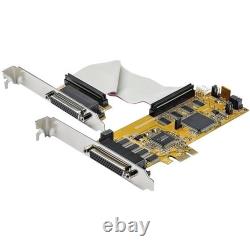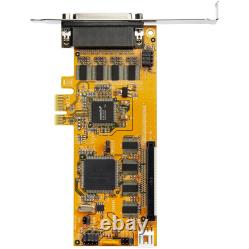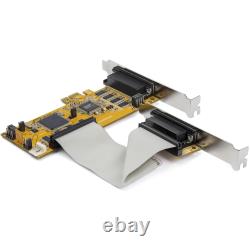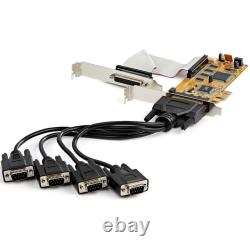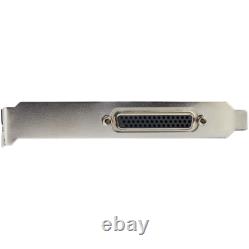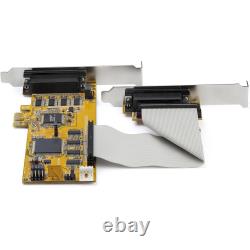 Add eight RS-232 DB9 serial ports to your desktop computer, through two PCIe expansion card slots. This PCI express serial card, with two breakout cables, provides you with multiple ports to connect a wide variety of serial peripherals, at speeds of up to 921.4Kbps. Connect your Peripherals with 8 Serial Ports The PCI express serial port card makes it easy to add serial ports to connect your peripherals including printers, scanners, credit/debit card readers, PIN pads and modems, industrial controls and more. The 8 port PCIe serial card includes 2 breakout cables - each with 4 DB9 connectors. Versatile Use The low profile PCIe serial card is the ideal choice for adding serial ports, even when space is at a premium. The DB9 serial card is designed to fit into small form factor and standard computer cases. The card comes pre-configured with a low-profile bracket, and includes two optional full-profile brackets, so installation is easy regardless of the case form factor. Maximum Compatibility With broad OS support, including for Windows and Linux, this PCI Express card is easy to integrate into mixed environments. 8-Port PCI Express Serial Card with 16C1050 UART.
8 x DB-9 - Serial, Via Cable. 8-Port PCI Express Serial Card with 16C1050 UART 2 x DB44 to 4-Port SB9 Breakout Cables 2 x Full Profile Brackets 1 x Quick-Start Guide.
Manufacturers change colors and item details frequently and often do not update pictures. We have no personal knowledge or experience with this product or ability to customize it.
It usually takes about a week to get your item. There is no human intervention in the process. That is how we control costs and keep our prices so low. NO ADDRESS CHANGE IS POSSIBLE.