SolarFlare SFN8522-ONLOAD Dual Port 10Gb/s PCI-E x8 Ethernet Sever Adapter NIC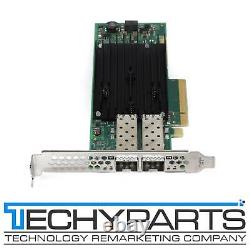 SolarFlare SFN8522-ONLOAD Dual Port 10Gb/s PCI-E x8 Ethernet Sever Adapter NIC. SolarFlare SFN8522-ONLOAD Dual Port 10Gb/s PCI-E 3.1 x8 Ethernet Enterprise Sever Adapter NIC with Full Height Mounting Bracket. Product name Solarflare Flareon Ultra 8000 Series 10G Adapter Installed keys ScaleOut Onload.
Condition: Clean, tested pull - Guaranteed 100% working! No software, cables or other accessories included. Comes with full height mounting bracket only. Flareon Ultra SFN8522 Dual-Port 10GbE SFP+ PCIe 3.1 Server I/O Adapter with ScaleOut Onload License License. The Onload variant of the XtremeScale SFN8522 dual-port 10GbE SFP+ server I/O adapter adds a suite of enabled software capabilities that provide out-of-the box support for ultra-low latency Onload-accelerated sockets. These features make the SFN8522-Onload the ultra-low latency Ethernet adapter of choice to deploy as a key component throughout financial trading infrastructures where two ports of 10GbE are required. CPU-EFFICIENT NETWORKING The XtremeScale SFN8522-Onload dual-port 10GbE Ethernet SFP+ server adapter delivers faster, more efficient processing of network traffic to accelerate a wide range of applications. The SFN8522-Onload has 8 lanes of PCIe 3.1 minimizing latency and maximizing bus throughput between the adapter and the host. FLEXIBILITY IN OPERATION In a virtualized environment the adapter supports hypervisor bypass via SR-IOV providing virtualized guests with near baremetal network performance. Onload adds the option of kernel bypass in Linux guests, providing virtualized applications the lowest possible network latency even while virtualized.
Multiple physical functions are also available enabling the ports to be partitioned when connected to 802.1Q trunked switch ports with a logical interface per VLAN being presented to the operating system. ULTRA-LOW LATENCY The XtremeScale SFN8522-Onload offers fast and efficient hardware that optimizes packet flow to and from the user application. The platform's hardware optimizes packet flow to and from the user application. When licensed for ultra-low latency, it delivers unrivaled sub-microsecond TCP and UDP latency. With Onload, the industry's best application-to-application performance is enabled via Solarflare's unique and patented kernel bypass techniques.
ONLOAD Onload is Solarflare's industry-leading fully RFC-compliant kernel-bypass user-space TCP/IP stack. Unrivaled application-toapplication TCP and UDP latency is available with no modification to the applications being accelerated.
Applications may communicate via Onload to any other RFC-compliant TCP/IP stack with seamless interoperability. Accelerating Cloud, Web and CDN Apps.
Flareon Ultra SFN8522 provides highbandwidth, high packet rate and CPU efficient processing of network traffic, making it ideal for scale-out cloud, web and CDN application environments. Solarflare adapters are used in a wide range of use cases, including web content optimization, DNS acceleration, web firewalls, load balancing, NOSQL databases, caching tiers (Memcached) and web proxies. In addition, when used with Onload, the SFN8522 further reduces host processing overhead and accelerates web and cloud traffic. When used with SolarSecure Filter Engine, the SFN8522 provides an additional layer of defense against DDoS attacks at the network ingress point to the Server.
Attacks can be absorbed without degradation of "good" traffic, enabling a 3 to 4x improvement in packet-level filtering server headroom. Flareon Ultra SFN8522 provides unmatched performance and scalability in virtualized environments. Solarflare is the proven leader in VM density and performance, and the SFN8522 raises the bar with 2048 vNICs, SRIOV and overlay network acceleration (VXLAN, NVGRE). In addition, the SFN8522 supports kernel bypass running in a guest VM, so users can run Onload or SolarCapture in a virtualized or cloud environment.
2048 guest OS protected vNICs; SR-IOV; 240 virtual functions. 16 physical functions; 16 NIC partitions. Supports optical & copper SFP/SFP+ modules; Direct-Attach, Fiber (10G or 1G), 1G/10G combo.
Supports 1G 1000BASE-T SFP modules. 30Mpps TX & RX sustained line rate with all packet sizes (15Mpps per port).
Distributes IPv4, IPv6 loads across all CPU cores; MSI-X minimizes interrupt overhead. TSO, LRO, GSO, IPv4/IPv6 and TCP/UDP checksums. Hardware directs packets based on IP, TCP, UDP headers. 4096 multicast filters; 4096 VLANs/port; adaptive TCP/UDP/IP, MAC, VLAN, RSS, RFS filtering; Accelerated RFS. PXE; unattended installation; UEFI; Solarflare Secure Boot.
Integrated Layer 2 Ethernet switch, VEB/Virtual switch. X, 6.0; Microsoft Hyper-V; Linux KVM. L: 13.4 cm (5.3 in). W: 6.9 cm (2.7 in). 12.0 cm (4.725 in).
7.92 cm (3.12 in). Storage solutions, power and testing equipment. We offer lowest prices on hard to find parts! Asset recovery and recycling services.
Open: Mo-Fri 10:00am - 07:00pm CST. At the bottom of the listing there is a "Ask a question" link. If it doesn't work for you, our contact information is published on the world wide web. Please use you imagination and investigative skills.
The truth is out there! This item is in the category "Computers/Tablets & Networking\Computer Components & Parts\Interface/Add-On Cards\Network Cards". The seller is "techy_parts" and is located in this country: US.
This item can be shipped worldwide.
Type: Wired
Brand: SOLARFLARE
Model: SFN8522
MPN: SFN8522
Compatible Port: PCI-Express 3.1 x8
Network Ports: SFP+
Number of Ports: 2
Max. Downstream Data Rate: 10GBPS
Interface Card Type: NIC
Custom Bundle: No
Modified Item: No