Solarflare Flareon Ultra SFN8542-PLUS Dual Port 40GbE PCI-E Server Adapter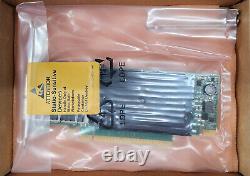 PCI Express 3.1 x16 bus. Supports Onload, TCPDirect Acceleration and PTP Synchronization. Includes all the original accessories, documentation and packaging. International cards are accepted only if the bank will verify name and address information.
Please note that most international card issuers will not. A BOUT U S: Incorporated in 1997, Complete Computer Solutions, Inc. Is an East Walpole, MA based reseller of new and used computer hardware.