LOT of 5/10 PCIE X8 to FlexibleLOM Quad Port 331FLR 366FLR 544FLR 561FLR 533FLR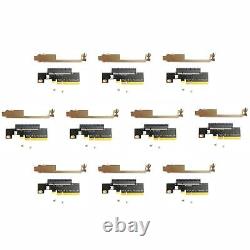 PCIe x8 adaptor for HP FlexibleLOM. Quad port GBe ethenet controllers 331FLR /366FLR /544FLR /561FLR. Adapter to use HP FLOM 4-port network adapters on common PCIe x8 slots. New Version (V1.21) is now on sales. Upgraded with a 12v 2-pin header for DIY fan cooling.
Some models of 544FLR-QSFP only support 10GbE and QDR. Close'CSM Support' in your motherboard BIOS before you install this adaptor. One PCIe x8 adaptor' includes one adaptor, one high profile bracket and two crews. One 331FLR w/x8 adaptor' includes one PCIe x8 adaptor installed with one Used HP 331FLR network controller card. We will attend to your case immediately.
But customers are to be charged with. If you feel satisfied by our products, we would appreciate it if you would leave us a. And we will do the same for you.
In some parts due to different production lots or lights in photo taking. Of any fan cooling products are.
For more authentic & detailed product specifications if any.