Intel Ethernet Server Adapter I350-t2 Pci Express X4 2 Ports 2 X Network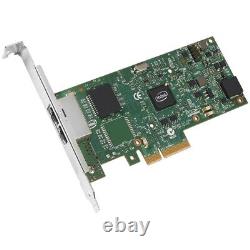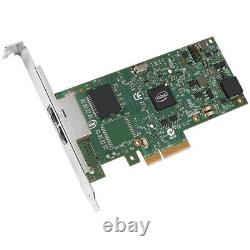 Intel Ethernet Server Adapter I350-t2 - Pci Express X4 - 2 Port[s] - 2 X Network [rj-45] - Twisted Pair - Low-profile, Full-height - Bulk (i350t2v2blk). International Customers: All electronic products are packaged for sale in the US with US voltage. Package Contents: Ethernet Server Adapter I350-T2 Low-profile Bracket. This item is brand-new, factory sealed. The new Intel Ethernet Server Adapter I350 family builds on Intels history of excellence in Ethernet products.
Intel continues its market leadership with this new generation of PCIe GbE network adapters. Built with the bridgeless Intel Ethernet Controller I350, these adapters represent the next step in the Gigabit Ethernet (GbE) networking evolution for the enterprise and data center by introducing new levels of performance through industry-leading enhancements for both virtualized and iSCSI Unified Networking environments. This new family of adapters also includes new power management technologies such as Energy Efficient Ethernet (EEE) and DMA Coalescing (DMAC). Product Type Gigabit Ethernet Card Number of Network (RJ-45) Ports 2 Product Family I350 Total Number of Ports 2 Form Factor Plug-in Card Network Technology 10/100/1000Base-T Device Supported Server Host Interface PCI Express x4 Media Type Supported Twisted Pair Product Series I350 Product Model I350-T2 Package Type Bulk Twisted Pair Cable Standard Category 5e Card Height Low-profile Full-height USB No Network (RJ-45) Yes Serial Port No Ethernet AUI No XJACK No PoE (RJ-45) Port No. PCI Express 2.1 x4.
Number of Network (RJ-45) Ports. Designed with the bridgeless Intel® Ethernet Controller I350, this 1GbE adapter delivers performance through industry leading enhancements for both virtualized and iSCSI networking environments. A suite of hardware assists improves overall system performance by lowering the I/O overhead in virtualized environments. ISCSI simplifies SAN connectivity by eliminating the need for SAN- specific adapters or switches. This adapter also includes power management technologies such as Energy Efficient Ethernet (EEE) and DMA Coalescing (DMAC).
With advanced Power Management Technologies, customers can configure power options on the adapter and more effectively manage their power consumption. The Intel® Ethernet I350 Server Adapters includes these featured technologies: Flexible I/O Virtualization The Intel® Ethernet I350 adapters include Intel® Virtualization Technology for connectivity (Intel VT-c) to deliver I/O virtualization and Quality of Service (QoS) features designed directly into the I350 controller on the adapter. I/O virtualization advances network connectivity models used in today's servers to more efficient models by providing Flexible Port Partitioning (FPP), multiple Rx/Tx queues, and on-controller QoS functionality that can be used in both virtual and non-virtual server deployments. By taking advantage of the PCI-SIG SR-IOV specification, Intel® Ethernet products enable Flexible Port Partitioning (FPP). With FPP, virtual controllers can be used by the Linux host directly and/or assigned to virtual machines.
With this port partitioning, administrators can create up to eight dedicated networks on a single Ethernet port for use in baremetal and virtualized server deployments. In a bare-metal Linux server, host processes can be assigned to dedicated network resources to provide traffic isolation and balanced bandwidth allocation. In a virtualized environment, a VM can be assigned to a virtual controller to reduce the CPU overhead seen when using a software-based network bridge, by offloading network traffic management to the Ethernet controller silicon. Scalable iSCSI Performance iSCSI uses Ethernet to carry storage traffic, extending the familiarity and simplicity of Ethernet to storage networking, without the need for SAN-specific adapters or switches.
Intel® Ethernet adapters, with built-in iSCSI initiators for Microsoft Windows, Linux, and VMware ESXi platforms, provide a simple, dependable, cost-effective way to connect to LANs and iSCSI SANs. Intel® Ethernet adapters include hardware-based iSCSI acceleration features that do not require offloading to a proprietary TCP/IP stack. ISCSI acceleration uses large send offload, Receive Side Coalescing and transmit send offloads to help reduce latency and lower CPU utilization. To improve efficiency, MSI-X, Receive-side Scaling and Intel® Ethernet Flow Director, scale I/O processing across multiple CPU cores.
Direct memory access (DMA), direct cache access (DCA) and header splitting improve network data processing efficiency, and data center bridging (DCB) supports multiple traffic classes that can be prioritized for iSCSI traffic. These built-in initiators are broadly tested using multiple generations of operating systems, storage systems, and OS tools to help ensure reliability and ease of use.
Standardizing on Intel Ethernet for iSCSI allows administrators to use a single initiator, TCP/IP stack, and a common set of management tools and IT policies. Intel® Ethernet Server Adapter I350-T2V2 (I350T2V2BLK).
Opened items must be in re-sellable condition including original packaging and all accessories. We focus on making purchasing online a pleasant experience.
Our sales office is located in beautiful town of Redondo Beach, California, just a few miles South of Los Angeles International Airport. We do not stock any inventory at our sales office. Why are our prices so low? We have modeled our business much like a wholesaler. We sell in huge volume and have streamlined our operations to provide you with the best combination of price and service available anywhere.