Dolphin PXH810 Notebook Host Adapter Wireless Card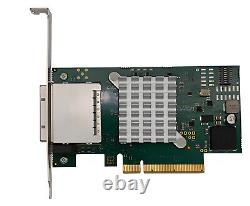 Dolphin PXH810 NTB Host Adapter - 64 Gb/s - PCI Express Gen 3.0 - Low Profile - Open Box. It may be missing some accessories that are not needed for the functionality of the product and it might show minor blemishes.
Where applicable, manuals/software might not be included. This item might be repackaged. Based on Broadcom (PLX) Gen3 PCI Express switch architecture, the PXH810 host adapter includes advanced features for non-transparent bridging (NTB) and clock isolation. For high performance application developers, the PXH810 host adapter combines 64 Gbit/s performance with less than one microsecond latency, significantly improving overall inter-system communication. Inter-processor communication benefits from the high throughput and low latency. The PXH810 performs both Remote Direct Memory Access (RDMA) and Programmed IO (PIO) transfers, effectively supporting both large and small data packets. RDMA transfers result in efficient larger packet transfers and processor off-load. PIO transfers optimize small packet transfers at the lowest latency. The combination of RDMA and PIO creates a highly potent data transfer system. Dolphin's software suite takes advantage of PCI Express' RDMA and PIO data transfer scheme. Delivering a complete deployment environment for customized and standardized applications.
The suite includes a Shared-Memory Cluster Interconnect (SISCI) API as well as a TCP/IP driver and SuperSockets software. The SISCI API is a robust and powerful shared memory programming environment. The optimized TCP/IP driver and SuperSockets software remove traditional networking bottlenecks, allowing standard IP and sockets applications to take advantage of the high performance PCI Express interconnect without modification. The overall framework is designed for rapid development of inter-processor communication systems. With the implementation of clock isolation, the PXH810's signal quality is excellent.
By isolating the system clock and transmitting an extremely low jitter high quality clock to downstream devices, the PXH810 offers users high signal quality and increased cable distances. The PXH810 supports PCI Express Gen3 x8 fiber optic cables up to 100 meters. The improved signal quality and fiber optic support makes the PXH810 ideal for simulation systems. The PXH810 is ideal in applications such as test and measurement equipment, medical equipment, and storage subsystem seeking high performance and data quality. The PXH810 is carefully designed for maximum cable length and support copper cables up to 5 meters at full PCI Express Gen3 speed when connected to another PXH810 card. Fiber optics is supported up to 100 meters at full speed. Dolphin PXH810 Notebook Host Adapter. 0.54 Microsecond Latency (Application To Application), Less Than 130 Nanoseconds Cut Through Latency Port To Port, Greater Than 6.5 Gigabyte/s Throughput. Broadcom PLX PCI Express Gen 3.0 Switch With DMA. Base Specification 3, Card Electromechanical Specification 3.0. Point to Point, Switched using IXS600 switch. One x8 iPass PCI Express Copper Cable, Fiber Optic Cable Support. Operating Temperature: 0 - 55 Degrees Celsius, Relative Humidity: 5 - 95 Percent non-condensing. SuperSockets Berkley Sockets API, Microsoft WinSock2/LSP support, SISCI API, TCP/IP Driver.
CE Mark, FCC Class A, RoHS, UL94V-0 Compliant. Full Height Plate Installed, Half Height Plate Included. Dip-switch Configurable, NTB / Short Cable / Long Cable / Safe Boot. 12 Volt - 12 Watt Max, 8 Watt Typical, Optional 3.3VAUX, 40 mWatt. Low Profile - 2.731 x 6.600 Inches.
Please contact our Support team. If you have any issues with your order and we'll work with you to ensure your satisfaction so we can earn your 5-star review. Customer will be charged the replacement cost of missing, damaged, or altered products and accessories.