Dell Intel X550-T2 X550 Dual 10G 10GB 10GBase-T PCIe Network Card Adapter 04V7G2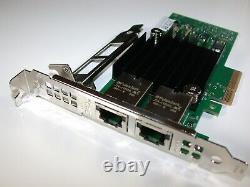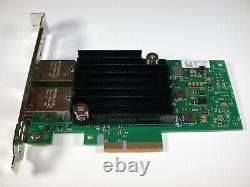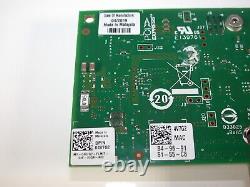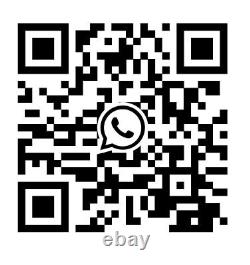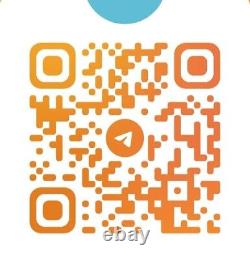 Autonegotiation between 1GbE, 2.5GbE, 5GbE, and 10GbE provides the necessary backwards compatibility required for a smooth transition and easy migration to 10GbE. The X550 is a low-cost option for deploying 10GbE in your data center because it uses CAT6 and CAT6A cabling - standard cabling for many data centers.
Copper cabling's flexible reach from 1 meter to 100 meters also supports Top of Rack (ToR), Middle of Row (MoR), and End of Row (EoR) network architectures. This adapter also reduces cost and power through its single-chip solution. The adapter uses the Intel® Ethernet Controller X550, with integrated MAC and PHY. Integration translates to lower power and means no more active heatsink reducing the per-port power consumption.
Integration also equals lower cost per port. When cabling is accounted for, cost efficiencies realized from a single 10GBASE-T adapter means that this is possibly the lowest-cost media to deploy. When time and budget allow, 10GBASE-T switches can be added to experience the full benefits of 10GbE. Product Collection: Intel® Ethernet Converged Network Adapter X550. Cabling Type: RJ45 Category 6 up to 55m; Category 6A up to 100m.
Description: NBASE-T support in Linux Only. Data Rate Per Port: 10GbE/5GbE/2.5GbE/1GbE/100Mb.
Intel® Virtualization Technology for Connectivity (VT-c): Yes. Speed & Slot Width: 8.0 GT/s, x 4 Lane. Controller: Intel® Ethernet Controller X550.
System Interface Type: PCIe v3.0 (8.0 GT/s). On-chip QoS and Traffic Management: Yes. Virtual Machine Device Queues (VMDq): Yes. Intel® Data Direct I/O Technology: Yes. Storage Over Ethernet: iSCSI, FCoE, NFS.
1 x Dell Intel X550-T2 X550 Dual 10G 10GB 10GBase-T PCIe Network Card Adapter 04V7G2. Please review total amount prior to checkout.