100pcs RTL8125B 2500/1000/100Mbps 2.5GBase-T PCI Express Gigabit Network Adapter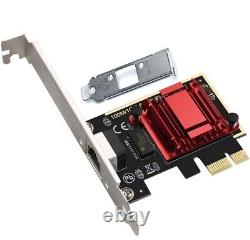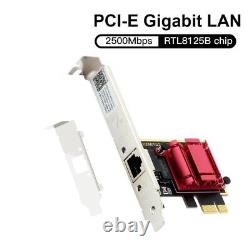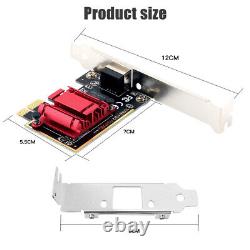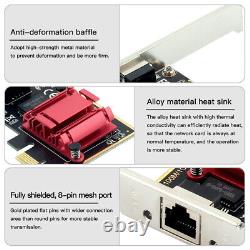 100pcs RTL8125B 2500/1000/100Mbps 2.5GBase-T PCI Express Gigabit Network Adapter. Compatible with Windows 10 / 8 / 8.1 / 7 / XP / Vista, Windows Server 2012 / 2008 R2 / 2008 / 2003, UEFI, Linux kernel up to 5.6 operating systems.
To find more OS compatibility version or driver download, go to Realtek: https:// www. 2.5GBPS PCIE NETWORK ADAPTER WITH RTL8125B CHIP? PCIe 2.5G 4-Speed Multi-Gigabit Network Adapter supports data rate up to 2.5 Gbps.
It will increase business working efficiency by increasing the network speed. The transmission is more stable, and it is not easy to cause packet loss and distortion. ADD 2.5G RJ45 ETHERNET PORT? Fits any PCI Express x1, x2, x4, x8 or x16 socket.
NOTE: Only work with PCI-E slot, Not for PCI Slot. 2.5G PCIe network card, standard bracket, low-profile bracket, screwdriver, screws, CD Drive. Up to 2.5 times faster data transfer speed, using next-generation 2.5GBase-T technology, faster than standard Gigabit Ethernet, better for large-scale games and complex task processing, providing a better experience for desktop computers.
RLihm 2.5GBase-T pci express network card adopts Intel I225-V chip, which is stable and fast, and performs well in large-scale games and complex multitasking. The 2.5 gb ethernet card auto-negotiates between high-speed and low-speed connections, automatically adapting to the connected network device. The pci express network card comes with standard brackets and low profile brackets, suitable for desktop and small/slim computers/servers; to improve usage stability and cool down quickly, our network cards are equipped with heat sinks.
RLihm network card for pc is fully compatible with Windows 10/11 and Linux to meet more of your needs. This pc network card is compatible with PCIE-1, PCIE-4, PCIE-8 and PCIE-16 slots and is compliant with IEEE 802.3, IEEE 802.3u, IEEE 802.3ab, IEEE 802.3az, IEEE 802.3bz. The I225-V chipset is not suitable for server CPUs below the sixth generation, please check if it is compatible with your computer before placing an order.
Suitable for Host Sever and Personal PC. PCI Express RTL8125B 2.5G network adapter is combines a four-speed IEEE802.3 compatible Media Access controller with a four-speed Ethernet transceiver, it is complies with the IEEE802.3u specification for 10/100Mbps Ethernet, the IEEE802.3ab specification for 1000Mbps Ethernet and IEEE802.3bz specification for 2500Mbps Ethernet.
It offers high-speed transmission over CAT5e UTP cable OR CAT3 UTP(10Mbps only)cable. It is suitable for multiple market segments and emerging applications, such as desktop, workstation, server, communications platforms, and embedded applications. Network media:10Base-T, cat3 or above UTP, 1000Base-Tx, cat5 or above UTP.
Data rate:PCI Express 1x slot. LED Indicator:100M/1G/2.5G Link/Act. Support OS:Windows 10(32/64), Win7 (32/64), Win8,8.1 (32/64), Windows Server, 2012,2008, Linux, Mac OS. Support 2.5G and 1G Lite mode. Compatible with NBASE-T Alliance PHY Specification.
Supports PCI Express 2.1. Supports 1-Lane 2.5G/5Gbps PCI Express Bus. Compliant with IEEE 802.3, IEEE 802.3u, IEEE 802.3ab.
Supports IEEE 802.1P Layer 2 Priority Encoding. Supports IEEE 802.1Q VLAN tagging. Supports IEEE802.3az(Energy Efficient Ethernet).
Supports IEEE802.3bz(2.5GBASE-T). Supports Full Duplex flow controlIEEE 802. 100pcs PCIe Gigabit Ethernet Adapter.